About our Byte Fleet
US Sailing World article on our fleet -- September 2000
Members
We are sailors who enjoy sun, water, wind, the thrill of surviving a high wind jibe, the elation of humming through the spray on a fast reach, quiet light-air communing with nature, and the damp satisfaction of hosing down boat parts at the end of a day. And we like driving our own boats!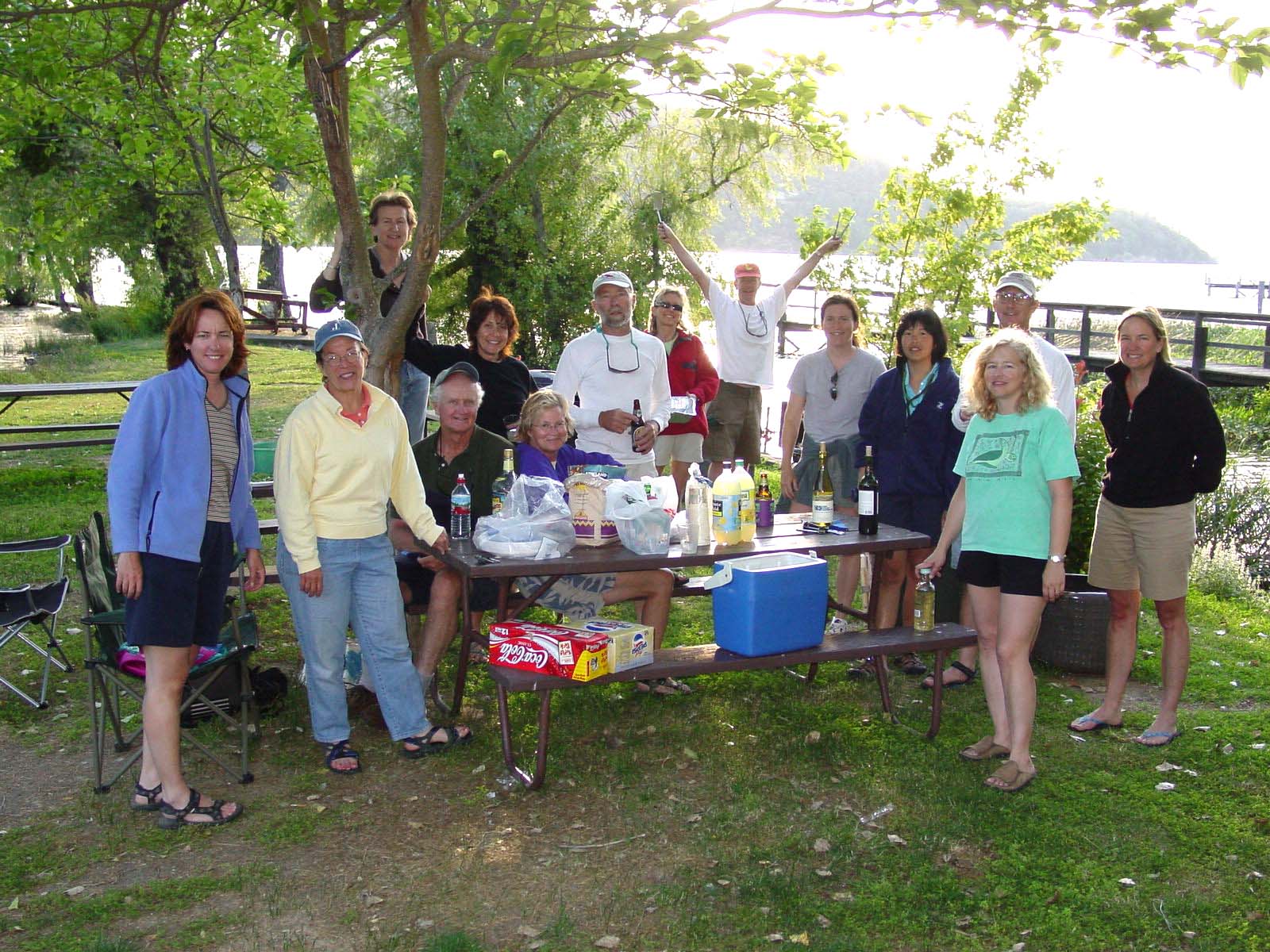 The 2005 Byte Clinic at Clearlake.
While most Byte fleets worldwide are junior fleets, our members range in age from pre-teen to 60+. At one time we were an all-woman fleet, but several males have now joined in the fun. Everyone is welcome. We race to win, but support each other: We share sailing tips and lunches, keep a watchful eye on less experienced sailors, work hard to improve everyone's skills, and try to make Byte sailing a sociable as well as an athletic undertaking.

Sailing Venues

Richmond Yacht Club is home base to the majority of fleet members, but members' residences are scattered around and beyond the Bay Area. RYC is a favored location because it has good launch facilities and a choice of sailing venues, but we race at a variety of Bay Area locations.

San Francisco Bay's high wind summers put Byte sailors to the test, although we're learning to like windier days and waves. Consequently, we try to schedule lake sailing when we can -- this year we're going to the Gold Country regatta in the Sierras.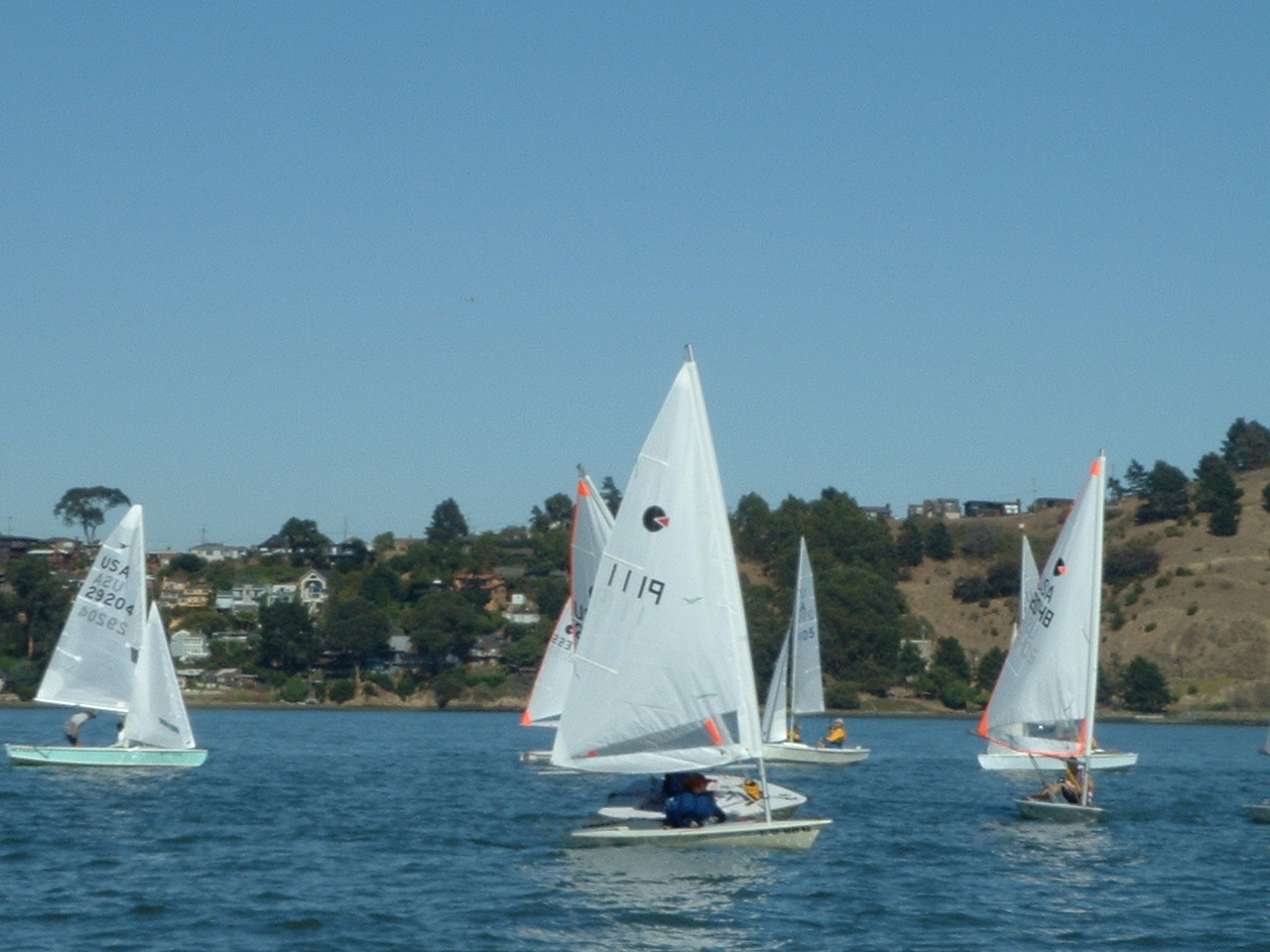 Fleet Activities
MEMBERSHIP — All local Byte owners and skippers are asked to submit an annual fleet membership form and fee. The fee is only $15 for Byte owners, $5 for non-owners (talk about cheap fun!), and this helps defray fleet expenses such as Charter Byte costs, web site expenses (none to date), the occasional "Latitude 38" ad, mailing expenses, etc.
MEETINGS AND ELECTIONS — There's an annual fleet meeting (usually held in January) and ad hoc meetings as needed, usually held as part of a well-attended sailing event. Gail Yando and Karin Knowles currently serve as fleet co-chairs, Michele Logan is Treasurer. Elections are infrequent and not hotly contended. If you'd like to take charge of anything, just let us know.
COMMUNICATIONS — Everyone has email, so all notices go out via email. We're on an email list server that you can and should join, if interested. This list server enables a member to email everyone on the list by sending a single email. And if you're looking for sailing companions or are interested in attending a fleet activity, you're encouraged to email the group. And don't forget to check this Web site — we try to keep it up to date.
RACING — Every January (or thereabout) we meet to plan our "official" racing season calendar, which usually runs from March through September. Many of us sail in the RYC Small-Boat Midwinters regatta, and there are several other "non-official" racing events at other yacht clubs that individuals or groups can attend. Occasionally RYC hosts a major Byte event (North Americans, PCCs, etc.) -- and International Byte Association regattas always welcome participation.
SAILING CLINICS — For many years the local fleet has held one or more Byte clinics. The 2007 clinic at Clearlake was so much fun, we're heading back there in 2008. Dan Ouellet has a good Byte program at the Jack London Aquatic Center in Oakland and tries to provide a clinic when he can. He also has a special program for those who can already sail but want to learn the Byte (tryout required)..
INFORMAL ACTIVITIES — We often schedule an informal practice or fun sail day. We've held more than one fiberglass repair party and even had informal camping trips But things don't need to be "official" or organized well in advance. All ideas are welcome. If you have an idea or just want to get out on the water, run with it. All it takes is a group email stating what, when, and where.
CHARTER BYTE — The fleet owns an extra boat, the Charter Byte, which lives on a rack at RYC. We loan this to people who want to take a test sail, and interested parties can charter the Charter Byte for regattas and other events.
Check the Calendar page for more information. If there's something you want to do, let us know.
last edit: 02/07/08